Youngworks ondersteunt, traint en adviseert al meer dan 20 jaar verschillende organisaties met vraagstukken rondom jongeren. Dit zijn vaak grootschaligere projecten (zie onze pagina met casussen), maatwerktrajecten, waarbij onderzoek en advies centraal staat. Verder bieden we ook offline inspiratiesessies workshops en trainingen aan vanuit onze Youngworks Academy. In deze samenwerkingen, sessies, workshops en trainingen merkten wij dat professionals zich vaak ook individueel willen ontwikkelen. Genoeg reden om de Youngworks Online Academy te starten.
Youngworks Online Academy
Youngworks Online Academy is een online platform van Youngworks waar professionals hun kennis over jongeren kunnen vergroten en zich kunnen certificeren op een laagdrempelige manier.
⊛ Ontwikkeld door jongerenexperts
⊛ Online in je eigen tijd kennis opdoen
⊛ Onderbouwd met wetenschappelijke kennis en praktische voorbeelden
⊛ Ontvang na afloop een certificaat voor bijvoorbeeld je CV en LinkedIn-pagina.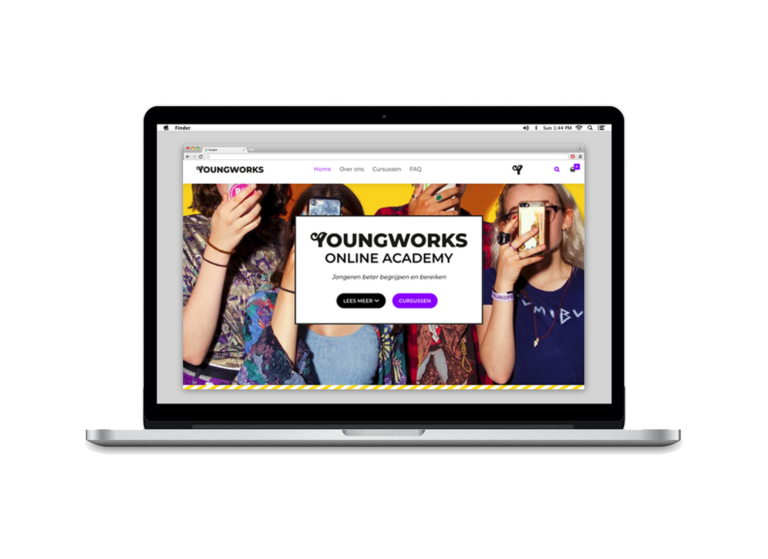 De eerste cursus die we aanbieden op ons nieuwe platform is de Basisopleiding: Jongeren als doelgroep. Deze cursus geven wij ook regelmatig binnen organisaties. We hebben deze vertaald naar een online cursus. In onderstaande video leggen Yvonne van Sark en Rutger van den Berg je uit wat je kan verwachten. Kortom: alles wat je moet weten als je werk hebt waarbij jongeren jouw doelgroep zijn. De komende tijd breiden we ons aanbod aan cursussen verder uit.
Suggesties? Of meer weten over jongeren?
Al sinds 1999 werkt Youngworks met een team van onderzoekers, adviseurs en trainers; en met een uitgebreid netwerk, van wetenschappers tot designers aan verschillende vraagstukken rondom jongeren (en hun toekomst). We schrijven regelmatig blogs en longreads, bekijk hier onze blogs. Ook is onze kennis gebundeld in verschillende boeken. Bekijk hier ons aanbod.
Heb je vragen of opmerkingen over de Youngworks Online Academy? Of zou je bijvoorbeeld graag zien dat wij een bepaalde cursus gaan aanbieden? Neem dan zeker contact met ons op.